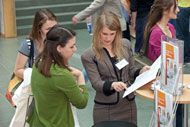 Are you looking for excellently educated employees with an international profile? Would you like to employ interns from the European University Viadrina? Or maybe you are interested in presenting your enterprise to our students? If any of these is the case, then you should get in touch with us!
The Career Center at the European University Viadrina is keen on bringing employers and students together. Our goal is to build a bridge between the University and the world of business. Therefore our team is glad to give you advice on searching new reliable staff members among the students and graduates of the European University Viadrina.
We offer you:
We speak English and are glad to support you.
If you cannot find on our website what your are looking for please do not hesitate to contact us!