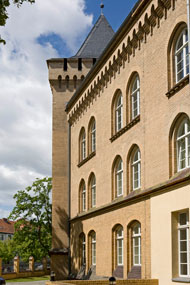 Language Requirements for Course Programs in German
Applicants with a non-German school leaving certificate (Abitur or equivalent) need to document their level of German (for course programs in German only). German language skills should be equivalent C1 of the common European Framework of References for Languages (GeR).

You can study at the Viadrina with the following certificates.
1. German Language Exam (DSH)
The German Language Exam for admission to higher education (Deutsche Sprachprüfung für den Hochschulzugang - DSH) allows you access to German Higher Education. All German institutions of higher education will recognize this exam as long as you have passed it with Level 2.The DSH exam is offered by the Viadrina as a part of its preporatory course program as well as other German Universities.The exam evaluates language capabilities for studying in Germany. This means in detail:
listening comprehension of lectures, the ability to put down written notes and academically process them.

comprehension of written text and the ability to deal with it.

to produce written texts and verbally express opinions on a given academic topic.
The language centre of the European University offers a preparation course for this exam. More information on the DSH exam (for example the test date) are included in the admission documents. For further detailed information please contact the language centre.
2. "Test Deutsch als Fremdsprache" (TestDaF)
This exam can be done with Test DAF institutes all over the world. In order to study at the Viadrina you need to have at least Level 4 in all parts of the test (TDN 4)
3. German School Leaving Certificate
The German school leaving certificate from a German speaking school in Germany, Austria or Switzerland allows you access to German Higher Education.
4. German Language Diploma of the "Kultusministerkonferenz"
German Language Diploma of the "Kultusministerkonferenz" - 2nd level (DSD II) with the niveau C1 of the GeR in all 4 components of the test - is also a satysfying proof of the language knowledge.
5. Exams of the German "Goethe Institut", which relieve from DSH
Großes Deutsches Sprachdiplom/ Goethe-Zertifikat C2 (GDS)
Achtung: nur noch bis 31.12.2016!

Zentrale Oberstufenprüfung (ZOP)
Kleines Deutsches Sprachdiplom (KDS)
Großes Deutsches Sprachdiplom (GDS, alte Form)
6. German Degree or Preperatory College ("Studienkolleg")
When you successfully completed a degree at a university where the teaching language is German you do not need any further proof of language knowledge. This applies as well if you have passed a DSH or an equivalent  within a preparatory college (Studienkolleg).
Language Requirements
for Bachelor Programs in English
For the bachelor program International Business Administration sufficient English language skills are required. More information can be found directly on the page of the program.
Language Requirements
for Master Programs
Please be aware that the requirements of the master programs can be different! Therefor, inform yourself at the webpage of the respective master program to learn the particular language requirements!