Leave of absence during a stay abroad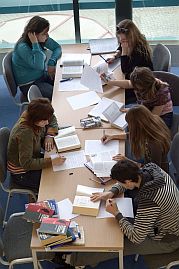 Can I take a leave of absence at the Viadrina during my stay abroad?
You can take a leave of absence (or a maximum of two) for the time of your stay abroad. During a leave of absence, your place at Viadrina is maintained. However, you are not allowed to participate in courses or take exams at Viadrina at this time.
Will my foreign study achievements be recognized despite my leave of absence?
No, if you are on leave during your exchange semester, your courses taken abroad will not be recognized at Viadrina. This counts equally for students from all faculties.
Can I exempt myself from the semester ticket regardless from a leave of absence?
Yes. Regardless to which Faculty you belong, it is possible to not pay for the semester ticket, independently form taking a leave of absence, if you stay 3-4 month abroad.
Do I have to re-register at the Viadrina, although when I have applied for a leave of absence?
Yes! Regardless of whether you apply for a leave of absence or not, you have to stay enrolled at Viadrina!
How and where do I have apply for my leave of absence / the exempt from the semester ticket?
It is best to submit the application for a leave of absence to the Admissions Office prior to your re-registration, as your to-be-refunded re-registration will correspondingly be adjusted. The application must be countersigned by us. To do that, please stop by during our office hours, or on the fly in the office of our student assistants (AM 207).
You can find the applications and deadlines for a leave of absence on the web site of the Admissions Office.
For the exemption from the semester ticket, please hand in a confirmation of the length of your study abroad to the administration office.
Moreover, please read carefully through the first pages of the leave of absence application! It will be pointed out there, for example, that you may be exempt from paying the students union (Studentenwerk) fee during re-registration. Precondition: You are or will not receive study-abroad financial aid (Auslands-BAföG) and you are abroad during the whole semester term (winter term: October-March / summer term: April-September). Often this is not the case. However, if you prolog your study period abroad or travel abroad beyond the end of the semester abroad and you proof this with a plane ticket, for example, you can be exempted from the student union fee afterwards. The students union is also obliging up to one month.