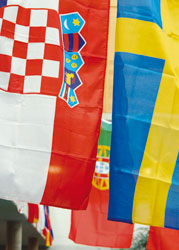 Travel abroad and study around the world!
With about 250 partner universities in 50 countries – grab your opportunity!
The Viadrina, as one of the most internationally focused universities in Germany, encourages you to study for one or two semesters in a different country. A stay abroad is not only a essential part of your study at the Viadrina and an important academic stepping stone but also a unique personal experience that you shouldn't miss!
We will help you every step of the way to a successful stay abroad. Whether it be a semester in the EU (Erasmus+) or elsewhere in the world (Non-EU) or if you're planning a double degree.
Would you like to do an internship abroad? This is also possible with Erasmus+. The Career Centre also provides support in finding internships abroad and in questions of financing.