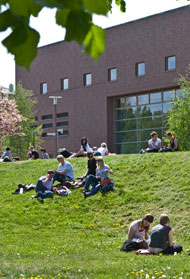 The European University Viadrina cooperates closely with several universities in and outside of Europe to award dual or multiple degrees. Viadrina students have the opportunity to acquire two to three degrees simultaneously.
We are pleased to help and advise you in applying and planning for dual or multiple degrees. You can discuss your study plans with us both before and after your stay abroad so that you can finish your Viadrina degree and your degree abroad in accordance with the regulations.
You will find further information regarding the individual study programs of the various faculties in the following pages.