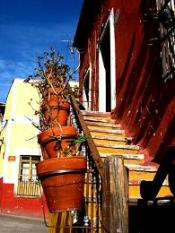 Some of our partner universities offer you housing in dormitories and may also help you find other housing options. You will get the necessary information on the webpages of the partner universities.
While abroad, please pay special attention when looking at housing offerings from real-estate agents. It would be best to take with you someone who is very knowledgeable in both the local language and customs to sign your rental agreement. Some universities offer a so-called "buddy", "mentor" or "tutor program," which enables you to ask a local student for help with finding housing.
You can find on Facebook many different groups about the partner university, city and country. These groups often address housing questions and rooms are also directly offered. You can find more information on housing abroad in the reviews of former exchange students.
A variety of accommodation options can be offered in student dormitories. Often, dormitories are set up such that you occupy a single and share the bathroom and kitchen with roommates. Other dormitories offer complete flats with small kitchenettes and private bathrooms. The dormitories also vary considerably in terms of furnishings, and you often have to bring your own bed linen and/or kitchen utensils. However, the websites usually provide detailed information about this.
Be aware that, especially in Eastern Europe, the rooms are often double rooms, so you will have to share them with another person. Sometimes student residences also offer single occupancy, but at a higher cost.
Please also keep in mind that some dormitories have comparatively strict rules, e.g. no visitors or alcohol are allowed and violations will be punished. Often, student dormitories include larger common rooms, contact persons on site or sports facilities. Laundry facilities with dryers and a cleaning service for the public spaces are usually also part of the equipment. Sometimes so-called meal plans are linked to rooms in the student dormitory, i.e. in the mostly higher rent, certain or all meals are included.
The costs for accommodation in student dormitories can vary significantly and depend on the local cost structure and the amenities provided. Whether they are cheaper or more expensive than private accommodation also depends on the country and city. Also be aware that some dormitories may be located on campus or within walking distance of it, and not always centrally located in the city.