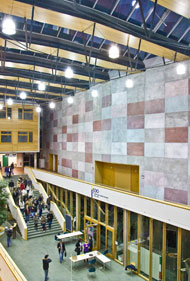 We endeavor to enable students with disabilities to study abroad at one of our partner universities. We advise you during the selection of universities as, unfortunately, not all of our partner universities are suitable for students with disabilities and support you during your preparation.

Financial support for your plans can generally better be arranged for a stay in another European country. As part of our EU exchange programs, you will receive with your spot an ERASMUS+ Mobility Grant. This can be increased for special needs, e.g., in the form of disabled-friendly housing, caregivers, etc., but it must be applied for at least 3 months prior to your stay abroad.

Please note that you generally will need more time to prepare for a study-abroad semester with disability.
You can find important tips for studying abroad with disabilities on the webpage of the German Student Union (Studentenwerk) under Studying and Disability.