Exchange Students: Partner Universities Non-EU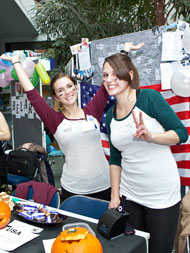 You are studying at one of our partner universities and you are interested in studying one semester or one academic year at the European University Viadrina as an exchange student. Please note that exchange students can receive certificates of examinations passed, while not getting a degree from the Viadrina (exept students within our double or multiple degree programs).
Please contact your home university first. Your home university nominates you for a student exchange to the Viadrina. When we have received the information on your nomination, we will send you a link to a web site where you can fill in the application for your stay online. On this web site you will find additional information for the online application process.
---
Application Process
Nomination by your home university
Fill in and send the application form online.
(The link to our online application form is not published on our website. You will receive this information by email in reply of your nomination.)

Print out the form that was generated as a PDF file by Step 2 and sign it.
Get this printed form signed and stamped by your home university.

Please send your filled and signed application form with a foto and the following documents to the Department of International Affairs:

Transcript of Records
ECTS form Learning Agreement
(If required by your home university.)
proof of German language knowledge, if possible
copy of your passport showing your name, date and place of birth
---
Application Deadlines
Please be aware of the application deadlines:
winter semester:
15.07. for EU citizens (31.05. recommended for non-EU citizens)
summer semester:
15.01. for EU citizens (30.11. recommended for non-EU citizens)
---
Enrolment
After your arrival here you will get enrolled by our admission office.
Please bring with you the following documents to the admission office:
evidence of having paid the enrolment fee
your ID card or passport
coloured passport photo (for your student ID card)
You will find further information in the admission letter which you will recive from the admission after handing in your application