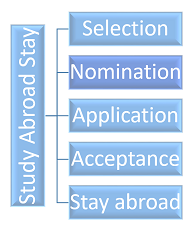 We are exclusively processing digital nominations. Please make sure to use one of the digital options to send us the information about your outgoing exchange students to the European University Viadrina.
• If you are using the software MoveOn (as we do), you can launch your digital nominations directly in there.
• If you do not use MoveON, but instead have your own local system that is EWP connected, you should make sure that your nomination data are shared via the EWP procedures.
• Without having any own EWP connection so far, you may use the Erasmus+ dashboard and upload your nominations there. This way we should receive your nomination data automatically on our side. (This option is so far still limited to universities having a valid Erasmus code.)
• In case none of the options mentioned above is working for you, you may share your nominations digitally by using the portal MoveON Global Hub. By registering in this portal, you can request the free of charge tool MoveONLite to send us your nomination data.
Please feel free to send us a short notification to students-in@europa-uni.de when you made your nominations in one of these systems, so that we can check if we received all data the correct way on our side.