Studying with disabilities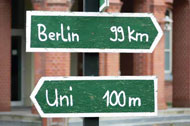 Viadrina supports both undergraduate and graduate students as well as doctoral students with chronic illnesses and physical disabilities. Because of these efforts, Viadrina was designated in a 2008 "StudiVZ" survey by your fellow students as one of the five friendliest universities in Germany for people with disabilities. Also as an international student you can, of course, count on Viadrina's support.
Studying in Germany as a Disabled Student
Negating disadvantages – creating a level playing field
Exam regulations across all fields of study contain special rules to minimize and to negate disadvantages facing students with chronic illnesses and physical disabilities. By coordinating with your professor/lecturer, you can make personal arrangements regarding the manner (written, oral, visual) in which you should take an exam, as well as the amount of time you should have allotted for it.
Visual impairment
For students with visual impairment we offer a computer with an Internet access that has a camera magnification function to enlarge printed text.
Hearing impairment
For students with hearing impairment we have infrared receivers available that can be borrowed from the university.
Locomotion impairment/wheelchair accessibility
All buildings in which courses take place are wheelchair accessible. In addition, single-room apartments are available for wheelchair users in the dormitories run by Frankfurt (Oder)'s Student Union (Studentenwerk).
Please note that you might need more time to plan and to prepare for your academic career than your fellow students. Because of that, please contact the staff of Viadrina International Affairs as soon as possible. Exchange students (e.g., ERASMUS) should first get in contact with their home university and after being nominated, please get in contact with us.
If you have any further questions, the academic advisor, Dr. Jenny Kuhlmann, the peer advisors for students with disabilities or the staff of Viadrina International Affairs will gladly be of assistance.