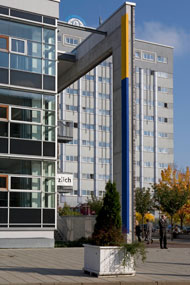 Each semester, every student has to pay a semester contribution. It is composed of social service contribution and student contribution and is collected for the follwing purposes:
Social Service Contribution
Student Body Fee
Registration Fee
Semester Ticket (required),
Student ID/Chipcard (paid only once).
Please note: Because international bank transfers can be costly and slow, we recommend to pay the semester contribution in cash after your arrival in Frankfurt (Oder) at the Viadrina. It has to be paid at the cashier (AM 244).The cashier will provide you with a receipt, which has to be presented at the registration office as proof of payment.