The Center for Teaching and Learning (ZLL) offers students a two-level peer tutoring training and certificate program in the area of the following key competences:
ACADEMIC WRITING
LEARNING & STUDYING
INTERCULTURAL LEARNING
PROJECT MANAGEMENT
DIDACTICS IN HIGHER EDUCATION
(By clicking on the image a larger version will appear)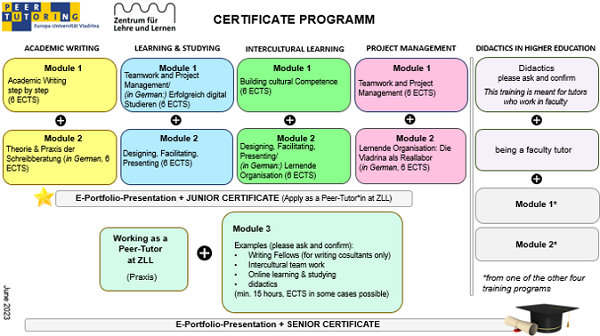 After completing Module 1 and 2 of the training and presenting their learning portfolio successfully, students receive a Junior certificate. With this certificate you can apply at the Center for Teaching and Learning in order to work as a Peer Tutor.
Peer tutors support fellow students in their learning process. Both, the learners and the peer tutors, benefit from this collaboration.
Once you have worked for one semester as a Peer Tutor at the Center for Teaching and Learning, and have additionally completed an upskilling Module 3, you will present the learning experiences of the training again, and receive a Senior Certificate.
Basic level - Junior
Module 1 + Module 2 + Presentation = Junior Certificate
Advanced level - Senior
Junior Certificate + Working at the ZLL + Module 3 + Presentation = Senior Certificate
During their training and work, Peer Tutors develop skills and key competences. From those they do not only profit during their own studies but even years beyond their graduation in various contexts of work life.
⇒ Check out our current module offers.
---
Please note: We are still developing our offers so some modules might not be available at the moment.
In case you are interested in the Peer Tutoring training please send us an email to zll@europa-uni.de
For information about the Peer-Tutoring training in German.