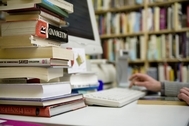 European University Viadrina wants to support its staff in combining work with family life and offers family-friendly study and work conditions so that you can research and work successfully.
When a child is on the way, in addition to joy several questions arise. How long can I work during my pregnancy? Who will replace me while I am on maternity/paternity leave? What financial support is available? Viadrina provides support in order to make (academic) work and parenting easier to reconcile. Family Representative offers you information, advice and support in all matters that concern family, work and children. She is pleased to answer your telephone or email enquiries. You are also very welcomed to arrange for a personal meeting.
There are many reasons why it can be difficult to coordinate childcare and work. Is the kindergarten closed? Is your child's teacher sick or on a training course? Are the grandparents not available at the moment? What can you do with your children so that you can still come to work?
To manage such situation, Viadrina offers a versatile parent and child workspace [Link Family Friendly Infrastructure]. On the one hand, the area is equipped with children in mind (child's desk and chair, high chair, diaper-changing table, toys and books). On the other hand, parents can work there due to the provision of a desk, telephone and PC while keeping a good eye on their child. The parent and child workspace is available for childcare needs at short notice only – please contact Family Representative in case of need.
Apart from the services and facilities described above, you can take advantage of Viadrina Child Care Service. Working Parents with sick children have the right to stay at home with them.
Moreover, in Germany every parent is entitled to a Parental Leave of up to three years per child and this right applies to both parents equally. Mothers who work in Germany benefit from the Maternity Protection Act.