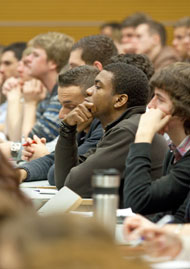 The President manages the university and is its official spokesperson. Prof. Dr. Alexander Wöll has been Viadrina's President since December 3rd 2014.
The Chancellor oversees the university administration and is responsible for the university's budget. Christian Zens is Viadrina's Chancellor.
Prof. Dr. Stephan Kudert
Prof. Dr. Cornelia Müller
Prof. Dr. Ines Härtel
Janine Nuyken


The Senate is an important, decision-making university body; it is comprised of professors, students, faculty and staff.
Faculty Councils
The Equal Opportunities Representative, is responsible for gender equality and diversity aspects at Viadrina.
International Student Representative Dr. Carmen Thiele observes the interests of internationals at Viadrina European University and serves as International Student Advisor.