Students and PhD Candidates with Children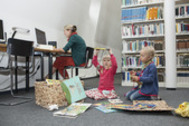 European University Viadrina aims to support undergraduates and post graduates in balancing family, work and education. The University provides family-friendly study conditions in order to ensure a successful balance between studying for a first degree or doctoral studies and the family.
Juggling parenting and studying children is not always easy. Besides looking forward to becoming a parent, there are probably a lot of questions to be answered. How do I balance my studies with my role as a parent? What financial support is available? Where can I get information about childcare? And many other questions. Family Representative provides you with information, advice and support in all questions concerning parenting and studying. She is happy to answer your telephone or email enquiries. You can also schedule an appointment for a personal consultation.
Parenting, pregnancy, elder or family care often require an individual study plan which differs from the usual study requirements and duration. Many students also have jobs to pay the bills, meaning that they have a double or triple burden. In order to shoulder this burden successfully, it is important to know which studying possibilities the university offers and and what rights students with family responsibilities have. In the following, you will find tips and advice about how you can successfully balance your studies and your family life, such as compensating for disadvantages, taking a semester off or how to study part-time.
For a consultation on individual study plan, please contact our study advisors or the faculty general manager of your faculty.
The family-friendly European University Viadrina has set itself the goal of providing targeted support for academic staff and early-stage researchers with children and those with duties as a carer.