Christmas-themed Tiramisù | Theresa
This Christmas-themed Tiramisù is a variation of the traditional Italian dessert. Our team member Theresa has prepared this dish for several of our annual Christmas parties - and it has been a hit since then. It is super easy to prepare, but super delicious at the same time - enjoy :)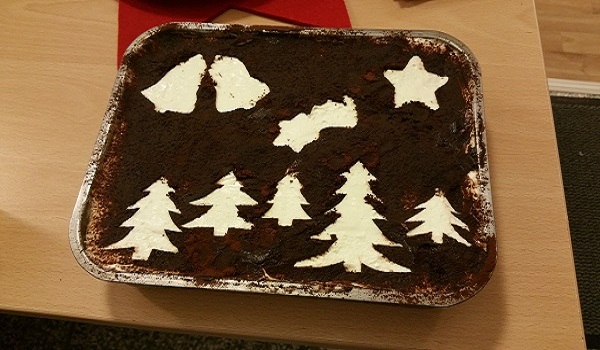 Preparation:
Mix the Mascarpone/cream cheese with the curd cheese.
Stir this with the sugar and vanilla sugar.
Whip the cream and mix with the Mascarpone-curd cheese- mixture.
Cut the fruits in small pieces, if necessary.
Spread the bottom of a cake tin thinly with the cream-mix.
Bath the cookies in some coffee and put a layer of cookies on top of the cream.
On top of that, spread the fruits and another layer of the cream-mix and coffee-bathed cookies.
Conclude with a layer of cream and spread it smoothly to an even surface.
Proposal for an extra Christmassy feeling: cut out some Christmas motives out of paper, put it on the Tiramisu and dust it with baking cocoa. Take off the stencils as soon as the cocoa has "settled in" a bit and enjoy the Christmas motives on top of your Tiramisu.