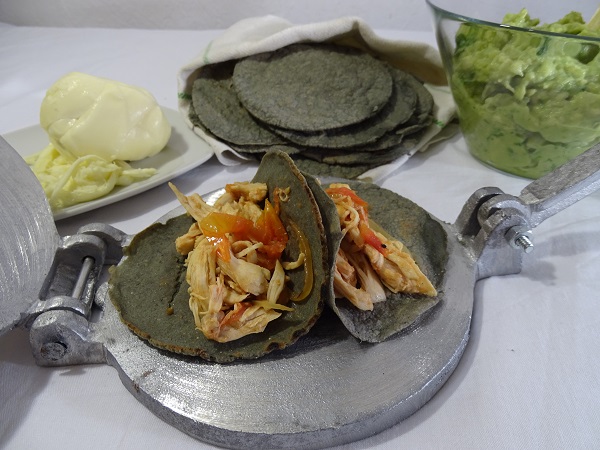 PREPARATION:
For the tortillas:
In a large bowl, combine flour and salt. Stir in water. Turn onto a floured surface; knead 10-12 times, adding a little flour or water if needed to achieve a smooth dough.
ATTENTION: It doesn't have to be sticky. Let rest for 10 minutes.
Divide the dough into 15 portions. On a lightly floured surface, roll each portion into a 12-15 cm circle.
In a large skillet, cook tortillas over medium heat for 1 minute on each side or until lightly browned. Keep it warm!
For the tinga de pollo:
Boil the 2 pieces of breast chicken with salt. After cooked, shred it with a knife or with your hands.
Cut the tomatoes and the onion into julienne.
Heat one finger oil in a pan or a casserole and fry the tomatoes and the onion for about 3 minutes until the tomatoes look juicy and they have changed colour.
Add salt and stir gentle.
Add the shredded chicken breast and let it all cook for about 5 minutes, until the chicken has acquired a light red tone.
You can add a bit more of oil or if it is too salty, then a bit of water.
Simmer.
For the tinga de pollo tacos (it comes all together!!):
Put the warm tortillas as a base, add the tinga de pollo and garnish the tacos with guacamole and cheese or with your favourite sauce.
Fold in half your taco and enjoy!