For the winter semester 2022, the Enrollment Day will take place on September 27th, 2022, starting 09:00 am.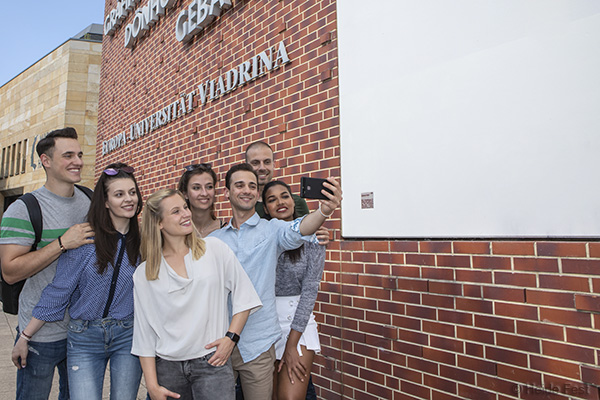 On this day, an enrollment service is offered to you as an international student of the European University Viadrina. This is to ensure that you complete the enrollment process in one day. With this service, you are guaranteed a more promising start to the semester. You will also have the chance to get to know your coordinator, other fellow students and Viadrina students.
Online Enrollment - Recording: will be provided later
The venue:
Auditorium Maximum (AM) building
Logenstraße 4
15230 Frankfurt (Oder)
For this event, the building will be divided to various stations where you can get help with the online registration. The Enrollment Day will take place as follows:
1. Welcome

- Receive a checklist for the rest of the day
- Check of the documents brought along/uploaded:
- Do you have your passport or ID card with you?
- Do you have your health insurance card with you?
- Have you completed the online part of enrollment?

2. Health insurance

- If you have EHIC/AT-11, please show it at the health insurance stand, you will then receive the respective confirmation.

- If you do not have EHIC/AT-11, you will need to obtain the German health insurance which will be possible here. Afterwards, you will receive a respective confirmation.

5. Cashier's office

- This step is about your semester contribution. Please bring cash with you. There is no possibility to pay by card!

- Once paid, you will be be given a proof of payment.


6. Matriculation

- All of your documents get checked, please bring the following files with you here: confirmation of the health insurance, proof of payment, the printed out and signed document generated at the end of the online enrollment.
7. Now you are enrolled, enjoy a nice stay abroad at the European University Viadrina :)