For the summer semester 2022, the Enrollment Day will take place on Wednesday, March 30th, 2022, starting 09:00 am.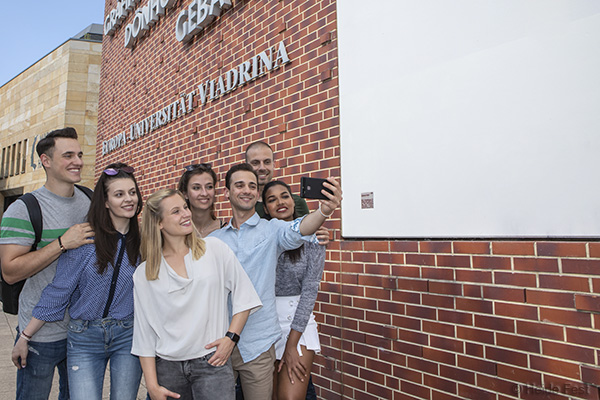 On this day, an enrollment service is offered to you as an international student of the European University Viadrina. This is to ensure that you complete the enrollment process in one day. With this service, you are guaranteed a more promising start to the semester. You will also have the chance to get to know your coordinator, other fellow students and Viadrina students.
Online Enrollment - Recording: Link
The venue:
Auditorium Maximum (AM) building
Logenstraße 4
15230 Frankfurt (Oder)
For this event, the building will be divided to various stations where you can get help with the online registration. The Enrollment Day will take place as follows:
1. Welcome

- Receive a checklist for the rest of the day

- Check of the documents brought along/uploaded:

Do you have your passport or ID card with you?
Do you have your health insurance card with you?
Did you take a passport photo with you?

2. Device check

- Electronic devices will be checked for internet compatibility

Do you have your laptop/ tablet/ mobile phone with you?
Does the Wlan work on your electronic device?
Did you bring a USB stick with you?

3. Online registration

- A moderator helps you in small groups to enroll.

Do you have your login and password ( have been sent to you by e-mail)?
Do you have your university entrance qualification with you?
Do you have a current postal address? Do you have your bank details?


4. Printing

- The documents created online will be printed for you.

5. Cashier's office

- This step is about your semester contribution. Please bring cash with you.

Did you bring the semester contribution with you in cash?
There is no possibility to pay by card!


6. Document check

- All of your documents get checked

Is everything complete for online enrollment?
7. Final line
- Now you are enrolled
- enjoy a nice stay abroad at the European University Viadrina