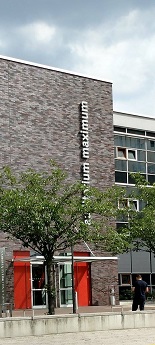 Helpful sites:
Euraxess, the network for
mobile researchers
Funding database of the DAAD
Research at the Viadrina
The Welcome Center of the Department of International Affairs
As the central advising and service unit of the Viadrina for international researchers, we are glad to help with the planning and completion of your residency.
We are always available to help with preparations for your residency, if you have organizational questions about your teaching position, please get in contact with us. Per request, we will send you general information about the Viadrina and Frankfurt (Oder), as well as further details about obtaining a teaching position at the Viadrina.
You may also find important tips in our service package.
Our service includes:
Individualized advising and support
Further support regarding

Registration with the city
Opening a German bank account
Acquiring German health insurance
Participation in language courses

Registering your children for kindergarden or primary school in the city
Distribution of contact information of other guest professors
De-registration with the city
Assistance moving out of your apartment