Postponed to May 2021
All about the new stuff: Diversity - Inclusion - Digitalization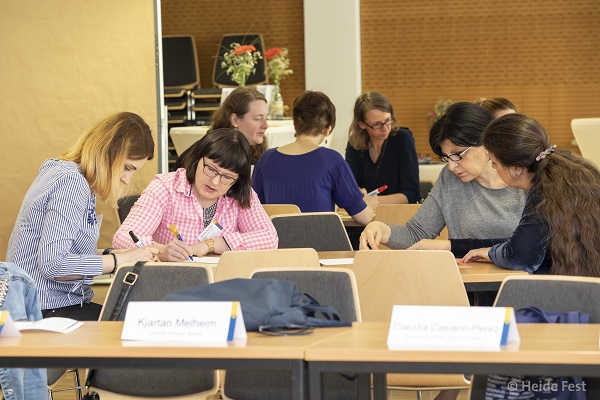 What is diversity? What is inclusion? Can digitalization lead to more equal opportunities and ease our workload?

Mobility should take place at all levels of the university supporting people with many different needs and backgrounds. How diverse are our institutions and how can we respond to and take into account individual needs - at home and abroad?

The next generation of the Erasmus+ Program starting 2021 will focus on inclusion and reaching young people of disadvantaged backgrounds and non-mobile target groups. Therefore, we would like to exchange ideas and experiences during our workshops with you on the following questions:
Why do we want to promote diversity and how?
How do we contribute to preventing discrimination?
How can we change existing patterns of thought and behavior?
And what does digitalization actually have to do with it?
Will "Erasmus Without Papers" ease my everyday work?

We look at diversity and inclusion at the peer-to-peer level of students. We explore what measures the institution can take to create equal opportunities for students and staff, and what other measures can be taken to enrich our (working) lives with diversity and greater equity.

If you are a colleague from one of our partner universities and interested in exchanging ideas about these topics, we are looking forward to welcoming you soon!
Program
Have a look at our preliminary program 2020.
Cultural & Social Activities
We are excited to show you around the cities of Frankfurt (Oder) and Słubice in Germany and Poland.
Campus & City Tour in Frankfurt (Oder)/ Słubice
Visit of the Brewery and Monastery Neuzelle
Boat Tour on the river Oder
Optional: Berlin visit
Costs
We do not charge any program fees and will cover all social events and most of the meals. Visiting participants from our European Partners are encouraged to use the Erasmus Staff Mobility Program.
Accommodation & Travel
Accommodation and travel cost are covered by participants. We will send you further information after the selection process. There will be a room contingent in a nearby hotel, costs will be around 70€ per night including breakfast.
Application
We are happy to invite up to 20 participants from partner Universities. Details concerning the application procedure will be shared in due time on this website.


---
You can find information regarding our previous Staff Trainings and some photos in the drop down menu below:
Viadrina International Affairs organized its 3rd International Staff Training Week, which took place from April 16 to April 20, 2018.
We had a wonderful time in and around the city of Frankfurt (Oder). The topic was "Mass vs. Class - Limits of Mobility".
Here you can find some photos of the Staff Training Week 2018.
Our Staff Training Week "International Students - Services and Support" took place from May 5 to May 9, 2014. In the center of our attention were not only exchange students, but also degree seeking students, and their needs and expectations.
How can we meet these expectations? How can we prepare them and assist them in their studies and their life in a foreign country?
Together with around 25 colleagues from all over the world we invited you to discuss issues and share ideas in order to further improve our student services. We had a variety of workshops and also shareed an exciting time in and around the city of Frankfurt (Oder).
Social and Cultural Activities:
Frankfurt (Oder) City Tour
Visit of the Brewery Neuzelle
Boat Tour on the river Oder
Trip to Berlin
You can find some photos of our Staff Training Week 2014 here.
The first Staff Training Week "Crossing Borders - A German Polish Adventure" took place here at European University Viadrina from May 7 to May 11, 2012.