Programme for Women Professors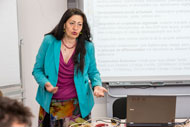 The European University Viadrina continues to successfully participate in the federal and state programme for women professors. After three professorships (one per faculty) were funded in the second programme phase, the Viadrina again has the opportunity to receive funding for up to three professorships. Currently, a W3 professorship for Cultural Philosophy/Philosophy of Cultures is being funded.
The Viadrina is currently able to implement and finance the following measures to promote equality through the Women Professors Programme:
Starter scholarships for women doctoral students in the Faculty of Social and Cultural Studies
Co-financing of various gender equality measures at Viadrina, including Viadrina Mentoring and the Family Office.

More information on the Programme for Women Professors can be found here.