Recruitment & Appointment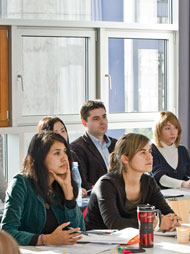 The promotion of women has many facets, be it through mentoring, scholarships, further education or making women visible in an organisation. It is crucial that women are involved in all areas and that they can participate in shaping them. Fair and equality-oriented selection procedures are important to ensure that women are appointed to these positions. Therefore, the monitoring of selection procedures is an essential task of the Gender Equality Officer. The responsibility for increasing the proportion of women (cf. target figures) lies with the respective decision-makers in the selection committees. This applies to all qualification and employment levels. Particular attention is paid to appointment committees and management positions in the administration.
The Gender Equality Officer will be happy to advise applicants on questions regarding gender equality or compatibility before or during an application, recruitment or contract extension.
Further information on the subject of application, selection, recruitment, extension of contracts and the Viadrina as a family-friendly university can be found on the pages of the Family Office.