Viadrina College Sprachkurs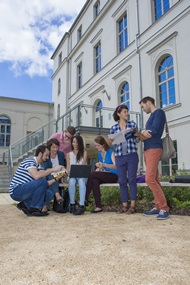 Der Viadrina College Sprachkurs ermöglicht internationalen Schulabsolventen/-innen und Studieninteressierten mit einer direkten Hochschulzugangsberechtigung in Deutschland an einem 12-monatigen Deutschsprachkurs teilzunehmen und sich sprachlich auf ein anschließendes Studium an der Europa-Universität Viadrina Frankfurt (Oder) vorzubereiten. Die Programmteilnahme ist kostenlos.
Weitere Informationen zum Viadrina College Sprachkurs finden Sie hier:
The Viadrina College Language Course enables international high-school graduates and prospective students with a direct university entrance qualification in Germany to take part in a 12-month German language course and prepare themselves in terms of language for subsequent studies at the European University Viadrina Frankfurt (Oder). Participation in the program is free of charge.
Please find here further information regarding the Viadrina College Language Course: