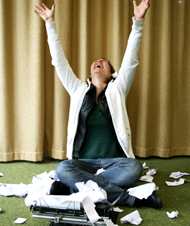 The Writing Center is the umbrella institution for all activities that deal with the key competences of 'writing' at the European University Viadrina. It supports students and graduate students alike to communicate with confidence and persuasion; using writing as a medium for critical thinking. All writers, experienced as well as unexperienced, benefit from conversations about writing processes and texts.
In accordance with the goals of international and sustainable education at the European University Viadrina, we offer:
individual peer consultation: writing processes, academic work and writing, text types, style etc.
an ambitious atmosphere to learn without any pressure to perform
advanced training and exchange in groups, seminars and workshops
supporting professors and teachers in the use of writing as a student-centered learning media
academically established training as a writing tutor, which all staff members have completed
advancing high school students' writing skills to provide better college preparation.
These services address students, graduate students, professors, teachers, and externals.
We follow international writing studies, participating in the discourses via research, publications, and participation in conferences.