European New School of Digital Studies (ENS)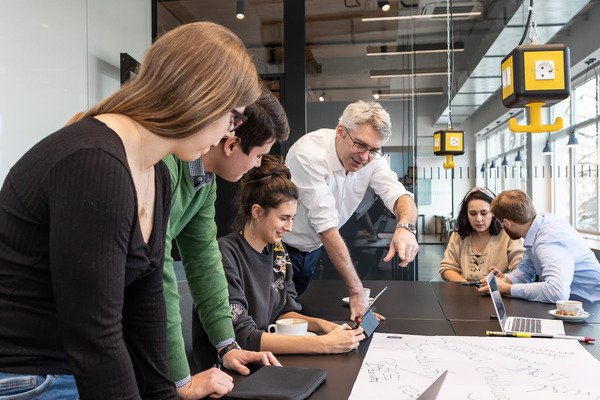 Digital Entrepreneurship: Shaping Future Society​
European University Viadrina Frankfurt (Oder) and Adam-Mickiewicz University Poznań jointly take on the challenges of the digital society
The European New School of Digital Studies (ENS) is a cross-border, international teaching and research institution with a focus on digitalization. Based at the German-Polish border, the ENS is a joint academic project of the European University Viadrina Frankfurt (Oder) and the Adam Mickiewicz University Poznań in Poland. It was founded with the vision of combining economics, law, social science, and technical expertise in computer and technology sciences to address the challenges of the digital transformation.
The ENS study concept is based on close collaboration between students and academic staff in teaching, team-based projects, and everyday working life. A dedicated Coworking Space, innovative teaching methods and small courses enable students to develop and drive their own projects. In addition, academic and non-academic mentors help students to plan and realize new project ideas and support them in building their personal network.

In 2020, the ENS launched its first German-Polish double degree program, the Master of Digital Entrepreneurship (MoDE). The four-semester program is held in English and will provide students with a skill set of theoretical and practical methods to develop and reflect on their own entrepreneurial solutions for the challenges of the digital transformation in Europe. Studying at ENS opens excellent career opportunities in various fields of science, politics, civil society and economics. After graduating, MoDE students will have a firm foundation in ethics and the know-how to organize, plan and run a business, both profit and non-profit.
For further information, visit the website of the European New School of Digital Studies.