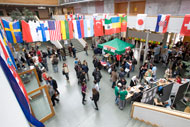 The school seminars will be devoted to theoretical and empirical analysis of the role of memory and identity discourse in the conflicts areas of the Eastern Partnership region. Among others, the program includes the following seminars and workshops:
Tatiana Zhurzhenko (Vienna), Memory Wars Before and After "Ukraine Crisis"


Andrii Portnov (Frankfurt/Oder), Understanding Violence and War


Lars Kirchhoff (Frankfurt/Oder), Anne Kraus (Frankfurt/Oder), Multitrack Conflict Management and Peace Mediation Method(s)


Vesna Hart (Harrisonburg, VA), Restoring the Social Fabric: Bridging Memories and Narratives


Marta Havryshko (L'viv), Gender and War: Women in the Ukrainian Military during the War in Donbas
Besides the academic part, participants of the school will also be able to develop their own small (team) projects in the framework of three workshops (Art.Lab, Doc.Lab, Media.Lab) under the close guidance of professional experts.
Furthermore, there will be film screenings, public discussions, and Open Space sessions where participants will have a chance to discuss their own scientific or cultural projects with other participants and scholars.
You can find the latest version of the programme here.