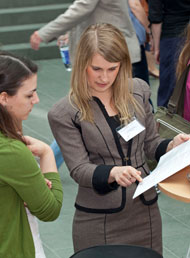 PASCH (Foreign Office of Partner School Initiatives) began in 2008 in order to form closer collaborations with schools in other countries and to strengthen German as a foreign language programs there. Part of PASCH is the Support Initiative of German Schools (BIDS), which is organized by the German Academic Exchange Service (DAAD).The Support Initiative supports collaborations between German colleges and German schools in other countries as well as schools granting language certificates. The DAAD also supports our BIDS-Project "Perspektive Viadrina." For this project we work particularly closely with German schools in Bulgaria and in Romania.
What does "Perspektive Viadrina" offer me?
Advising and Support
Besides normal student advising, the Viadrina also provides a personal advisor for students of foreign German schools who will help with questions regarding one's application, course of studies and scholarships
Contact: Maria Krug-Firstbrook
We passionately support students during their stay at the Viadrina. We are always available if you experience a problem.


School visits
We frequently make trips to German schools to introduce the Viadrina. Since 2008, we have visited many partner schools in Bulgaria, Romania and in Slovakia. In March 2011, we reintroduced the Viadrina to many Bulgarian schools. Besides this, we are also represented at many college fairs.


Prospectives' Week
We don't just visit schools, but invite prospective students to visit us in Frankfurt (Oder) in order to experience the Viadrina for themselves. We have already hosted students from language certificate-granting schools four times. Graduating high school students will become acquainted with the university and its many programs of study, attending lectures and meeting other students. In addition, we facilitate special programs, such as an intercultural workshop and an excursion to Berlin. Prospective students will stay in a student dorm for the duration of their visit. The Viadrina will cover all travel and lodging costs.


The next prospectives' week will take place in November 2021.
Scholarships
The European University Viadrina offers numerous scholarships. There are special scholarships intended for students of foreign German schools and language certificate-granting programs. You must apply during your first semester. You can find out more about our scholarships by visiting our scholarship page.