Portrait: Borders as Intellectual Challenges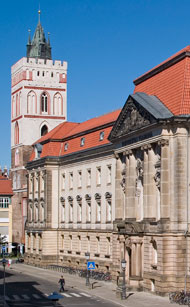 Learn more about the Viadrina and its people:
A university on the river – driven like a river's current.
The word river has a very special meaning for Viadrina. Firstly, this is due to the river on the banks of which the university lies. Just like neighboring Poland, the river is in our immediate area. This, in turn, has helped developed a close German-Polish connection; because of this, Viadrina is transforming itself into a German-Polish, European university.
Since its reestablishment in the year 1991, Viadrina has strictly adhered to its concept of bringing young people together from every corner of the world. This concept has proven to be successful: Viadrina has grown to become a lively, highly regarded member in the community of German and European universities.
Portrait: