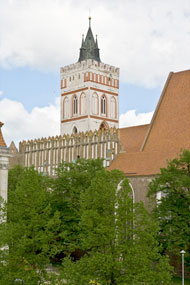 Frankfurt (Oder) lies in the heart of Europe on the river Oder and directly on the border with Poland, about 1 hour away of the German capital Berlin. Frankfurt (Oder) has approximately 64,500 residents. The famous poet Heinrich von Kleist was born in Frankfurt (Oder) in 1777 and was a student of the town's university. The town is very proud of its famous son and has dedicated numerous buildings and parks to him (e.g. Kleist Museum, Kleist Forum and Kleistpark).
Take a walk along the river Oder and enjoy the view across the river to Germany's neighbour, Poland. Just behind the university facilities lies the island Ziegenwerder with its lovely pathways. Leave the island and walk towards the city bridge which connects the two countries and which is an important point of the border. If you wish, you can cross the bridge and visit the Polish town of Słubice. Next to the border is the Collegium Polonicum, a joint study and research centre of the Adam-Mickiewicz University of Poznan »Poland« and the European University Viadrina.
The surrounding area of Frankfurt (Oder) is also worth a visit. Most popular amongst locals and students is the near-by lake Helenesee. Other interesting destinations are: the Lebuse region and the River Oder's »marsh« to the North, the well known spa of Bad Saarow and the lake Scharmützel to the West, and the former monastery Neuzelle to the South.