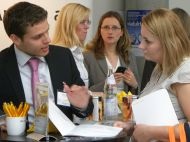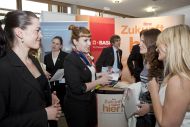 Job fairs are a great opportunity to get in touch with prospective employers.
Every second year, the Career Center of the University Viadrina organises the viadukt- Job- and Internship Fair. Various regional, national and international companies and institutions take part in the fair and seek to recruit students and alumni to provide them with the practice-based master theses, internships or full-time employment. The representatives of different companies are eager to answer any of your questions. They are keen on receiving your application letters.
Don´t linger! Find your future employer!