Information for Exhibitors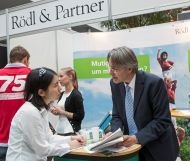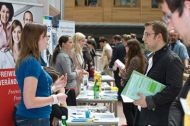 The fair offers a great opportunity for employers to contact and recruit outstanding qualified students and alumni in the fields of
Business Administration
Economics
Law and
Cultural and Social Sciences at all levels.
Some of the students are looking for a place to write a practice based thesis, others are in search of traineeships, internships and job offers.
Use the fair to enhance your campus presence and to connect with Viadrinas well-prepared students and alumni.
FAST FACTS viadukt
Key Facts:
- About 1200 visitors
- Most of them are students from our university
- Searching for: internships, working student-jobs,
Entry-level positions and young professional positions
- About 40 international exhibitors
- 90 % of the exhibitors were absolutely satisfied
with the viadukt.18
Our University
With 6500 students from more than 80 countries,
our university is one of the most international Universities of
Germany. At our 3 faculties students will be
trained for national and international leadership positions.

Our Courses
Economics
Bachelor-Students: 1140 // Master-Students: 600
> Bachelor Business studies // Bachelor International Business studies
> Master International Business Administration
Major Fields of study:
International Economics, Marketing & Management, Human Resources, Production & Logistics, Finance, Accounting, Controlling, Taxation
Law
Students: 1750
> Bachelor Law and Economics // Bachelor German and Polish Law
> Law (state exam) // Master European Economic law
> Master International Human Rights and Humanitarian Law
> Master Mediation & conflict management

Culture Studies
Bachelor-Students: 2400 // Master-Students: 1354
> Bachelor Culture Studies; Bachelor Intercultural German studies
> Master Intercultural Communication Studies
> Master European Studies // Master Socio-cultural studies
> Master Culture Management and Culture Tourism // Master Literary studies
> Master Media, Communication, Culture // Master European Cultural history
> Master Protection of European Cultural assets
> Master Culture and History of Central and Eastern Europe