Assistance with the applications for jobs and internships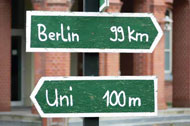 It is often very difficult to find out, which job matches your qualifications and preferences. Therefore we offer a variety of career counselling: Our team provides you with the information on job opportunities and applications.
Do you have problems to write good CVs and Job Applications in German?
We help you to complete your application documents and assist you in preparing for a job interview in Germany. You just need to write an e-mail to us and make an appointment. We give you individual advice. Besides you can also send us your application documents via E-Mail (careercenter@europa-uni.de). We will check your documents and send our feedback via Mail to you.
Moreover the Career Center offers trainings that give you insider information on recruiting procedures and standards for an application in Germany, Poland and the English speaking countries.
If you want to have a short and quick overview about application documents" in Germany, please download our brochure here.