Summer Courses Business Administration and Economics
Please note, that this Summer Program will not take place in 2019.
We are currently working on a new concept for our summer school. Information regarding the program in 2020 will be published later this year.
May 30 – July 13, 2018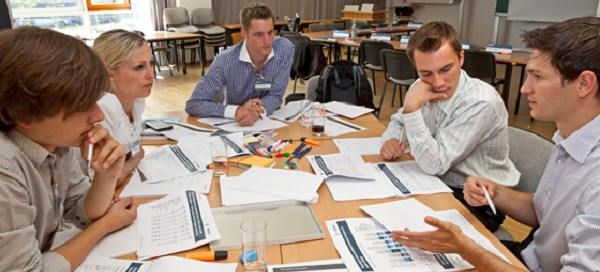 "Studying abroad was one of the best experiences of my life. I was outside my comfort zone so the first week was difficult but the program coordinators, professors, and other students at the University Viadrina made me feel welcomed and accepted. I love that I had the opportunity to study in Germany and also had time to travel. My favorite thing about this experience, however, is the fact that the people in the program were so different. I made friends not only from my home university but also from Ireland, England, Columbia, Mexico, and China. This was an exceptional experience that not only educated me in the classroom but also taught me life skills that I will utilize for the rest of my life."
Kimberly Salter, participant 2016
Each year Viadrina offers a range of courses for undergraduate business administration and economics students within a 6 week summer program.Besides classic business courses like:
Intercultural Management Training
The Venezuelan Crisis: History and Present, Causes and Consequences. Alternative for Solutions.
International Marketing
Information Asymmetry, Corporate Disclosure and Climate Finance

this year's summer university addresses recent political processes in Europe: Is the liberal order in crisis? Authoritarian, radical, and populist challenges to democracy will be studied in their broader international and historical context. Liberal democracy, human rights and open markets can no longer be taken for granted but must be justified and defended in the public arena. Some even fear that the historical lesson-learned that peace in Europe and beyond presupposes deep political and legal integration among the EU's member states is giving way to the lure of nationalism and parochialism. How significant are these processes in Europe of today? Are we observing processes that are similar in kind to populist authoritarianism in the US, Russia and Turkey? Is the idea of the open society reaching the end of its political career and is slowly being replaced by a new combination of nationalism and socialism?

The summer school will take place in Frankfurt (Oder), directly located at the border to Poland in a unique social and political environment which pinpoints many of the recent challenges of Europe.
Additional to the business courses the following classes are offered:
Comparative Analysis of Recent Challenges in Europe
The Radical Right in Europe: A New Wave of Regime Change?
The Fall of European Orders from the Roman Empire Until Today
Comparative Constitutional Populism
Concepts of Populism and Radicalism

Our Campus is located directly at the German-Polish border. You just have to walk across the bridge to find yourself in another country. Experience living in a region that has been influenced by major European historical impacts and join us on excursions to find traces of (inter-) European encounters!
This summer program is designed for students in European Studies, Global Studies, History, Social Studies, Cultural Studies, Business Administration and Economics.