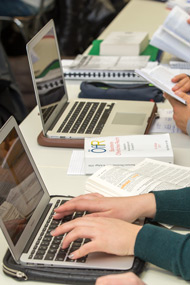 We are happy to help all students who do not have a proper laptop, the right operating system, or the appropriate computer programs for online teaching. From now on it is possible to borrow one of our new laptops incl. headset, e.g. for the exam period, a project period, or the summer school, in order to participate better online in the digital semester.
If you do not need the laptop for the online teaching, we would like to ask you to refrain from using this service.
How do I rent computer?
You can use the following online form to request a laptop.
Please fill out the form as best as possible.
After confirming your request via Email, you can pick up a rental laptop in the Logenhaus LH K 03 at the time slot, that you can book ahead. Please make sure you to bring some extra time, so we can prepare an agreement and explain everything regarding the use of your laptop.

The issue and return of the loaned devices takes place on individual agreement.

The maximum loan period is one semester.
If you are on a waitin list and a device is available, you will be notified immediately.
If you have any questions please contact us via computerleihe@europa-uni.de