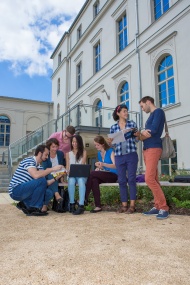 What is STEPin? STEPin stands for study entrance phase for international students and offers international students of the European University Viadrina a wide range of workshops, trainings, courses, seminars and language courses, which vary depending on the semester. STEPin aims to promote and support international students and their needs to develop key qualifications, competencies and skills which are necessary to successfully finish their studies and to enter the (German) labour market.
Who can participate in STEPin? The program is designed mainly for international students at the European University Viadrina. Some workshops, trainings etc. might address specific target groups (e.g. students with migrant backgroud and/or refugee background, international female students). However, other students are also welcome to take part in the program if there are still places available.
What are the benefits of the STEPin? STEPin enables international students to develop their key qualifications, core competencies and skills to sharpen and expand their own profile. The program aims to support international students with orientation and navigation in the German university system, career training and the (German) labour market entry. STEPin offers participants valuable insights and skills to ensure their study success and to facilitate a better start in their career and their professional life. All participants will receive a confirmation of participation after regularly attending the respective workshop, training etc. Students who participate in workshops, trainings, seminars and courses within STEPin have the possibilty to get partly ECTS credit points.
What are the costs? STEPin is funded by the program DAAD Integra of the German Academic Exchange Service (DAAD). Participation in workshops, trainings, courses and seminars within STEPin is free of charge for international students. Please note that language courses might be fee-based.