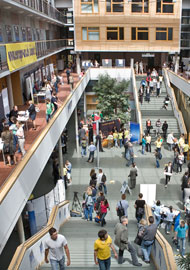 Terms of admission
Prerequisite for the admission to a graduate study program is the successful graduation from a university. This qualification must be equivalent to a degree obtained in Germany. If you have doubts whether your qualification is valid, do not hestitate to contact Bernd Klugert on this matter.
In addition, applicants need to prove sufficient language abilities (see point 4 below)
---
Forms to be submitted
the signed application request form "Bewerbung um einen Studienplatz"
(detailed information can be found in chapter 5 Steps to the Viadrina with "3. Step: Application")
certified photocopy of the graduation certificate
offical translation of the graduation certificate
(issued by a sworn translator)
proof of sufficient language abilities
(German; for some progams English)
For more information please refer to the webpage of the respective master program
a (not certified) copy of your passport which clearly shows your name, date of birth and place of birth
additional documents
Please refer to the webpage of the respective master program
Attention!
Please do not submit any original documents!
Photocopies have to be certified by authorities!
Applicants from EU-countries: photocopies can be certified at a notary, at schools or universities.
Applicants from beyond the European Union: photocopies have to be certified at a German consulate or by an authorised notary.
You can also get the application forms by mail. Please send us an email with your address.
---
Application process
After your documents have been checked according to content related qualitative criteria, the European University Viadrina will inform you whether or not we can offer you a place. We cannot process your application until all forms have been received.
---
All the best for your application!