Where to eat in Frankfurt (Oder) und Słubice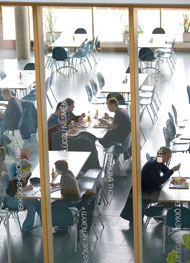 Dining Halls and Cafes
With an excellent dining hall located at Europaplatz 1, the Studentenwerk offers an extensive lunchtime culinary selection with numerous entree options. In addition, a dining hall in the Collegium Polonicum and cafes and bistros in all of Viadrina's buildings exist to meet your nutritional needs.
For those who want a change of pace:
Food on-the-go, Döner stands, Chinese food, pizzerias, Subway and ice cream stands are available in the Oderturm, which is located directly across the street from the main university building.
Some restaurants in the city center
Hemingways (Cocktailbar, Café, Bistro)
Brot & Zucker, Brunnenplatz 1
Fratelli
Café Central
Nirwana - indian cuisine
Darstellbar
Find more Restaurants, Bars & Pubs in Frankfurt (Oder)