Seminars, workshops, courses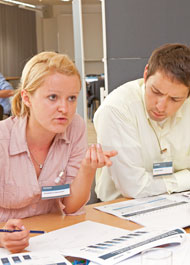 For our seminars, workshops and lunchtime lessons in German please refer to our German homepage.
We have offers in English occasionally. Those will always be announced here.
However, if you have to write essays, research papers, term papers, "Hausarbeiten", applications or theses and would like learn more about it or to talk about your writing projects with trained peers, you are always welcome to our writing consultion hours. We all speak English and many other languages - you do not have to speak German!
Lunchtime Lesson: Academic writing at a German University - What do professors expect

Writing in a foreign language may be like cooking a new dish for the first time – trying to apply your already learned cooking skills and still aiming to create a speciality never tasted before. But how do you know which spices, herbs and strange ingredients your guests – the German professors – like? In this Lunchtime Lesson we will talk about academic writing at a German university and provide you with useful hints to make your writing delicious to German gourmets .
Course Details:

Language: English

May 9th, 1pm - 2pm

GD, room 07

No registration needed