From Teaching to Learning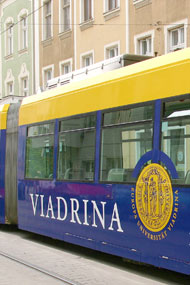 Students of the European University Viadrina enjoyed the privilege of courses focusing on key competences even before the Bologna-reforms in which "Employability" is a key component. Practically oriented seminars, foreign language acquisition and training of key competences have a long history with each of our three faculties.
In the context of the degree course Cultural Studies since 1991 and in the degree course German Law since 1996 key competences have been officially integrated into the academic framework. Furthermore the Career Center, founded in 2002, offers interdisciplinary trainings, courses and counseling centered around key competences.
Since then, the Viadrina has further strengthened its commitment to key competences. The Center for key competences and research-oriented learning has been under development since April 2012 and coordinates the existing offers on key competences as well as seeking to further expand them. A key component of the Center is the peer tutoring project which seeks to apply the method of peer tutoring as a basis for fostering the development of key competences.
Institutionally the Center for key competences and research-oriented learning is anchored with the vice-president of teaching (Vize-Präsidentin der Lehre). The Center is funded by the "Hochschulpakt – Qualitätspakt Lehre" until 2020.