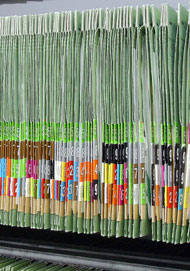 The Center for key competences and research-oriented learning conducts research in the field of learning processes, production of knowledge and key-competences with the emphasis on intercultural learning, Peer-Tutoring, collaborative learning and writing didactics.
Our research encompasses the evaluation of the aims formulated by the center in accordance with the BMBF (Bundesministerium für Bildung und Forschung) and the "Qualitätspakt Lehre". Furthermore, the Center is dedicated towards research on academic processes and practices of teaching and learning. Focal Points of this research are intercultural communication and writing didactics.
The evaluation is closely coordinated with the universities qualitymanagement. All modules are evaluated quantitatively. Within the framework of external evaluation or master theses our quantitative evaluation is complemented by qualitative analysis.
We are currently planning to publish a reader with that encompasses research conducted by students at the Center.
Furthermore we will soon publish a demand analysis for student learning groups that was conducted within the framework of the Peer-Tutoring project.
A colloquium for students writing their master-theses started in summer-semester 2014.
In 2015 a colloquium for phD students started.