Erasmus+ Funding for internships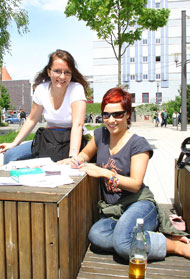 An internship abroad with Erasmus+
The Erasmus+ internship (SMP) enables students and graduates to gain experience of working abroad in a European country. They not only acquire relevant practical experience but can also improve their language skills and extend their intercultural and social skills.
The program offers students at the European University Viadrina:
secure work covered by an EU contract of employment between the university, the company and the student
support in finding and planning an internship abroad
financial support for the additional costs of being abroad
a certificate (diploma supplement) showing that you carried out an internship or academic recognition of the internship
foreign language lessons in the relevant language
extra support for disabled students
extra support for students with children
What is Erasmus+?
Erasmus+ has a budget of around EUR 14.8 bn, and more than four million people will take advantage of the EU fund by 2020. The seven-year program aims to improve skills and employability, modernize general education and vocational training and promote help for children and young people.
The funds will mainly be used to promote mobility in Europe and, to a lesser extent, other parts of the world. The program aims to support students who want to study abroad for some time or carry out an internship in a foreign country.
Erasmus+ supports traineeships (work placements, internships, etc) abroad for students currently enrolled in higher education institutions in Programme countries at Bachelor and Master level as well as for doctoral candidates. These opportunities are also open to recent graduates.
By doing a traineeship abroad with Erasmus+, you can improve not only your communication, language and inter-cultural skills, but also soft skills highly valued by future employers, as well as become more entrepreneurial.
You can also combine your Erasmus+ traineeship with a study period abroad.
Access to Erasmus+ Online Linguistic Support will help you learn the language used at your workplace.
Duration
Your traineeship abroad can last from a minimum of 2 months to a maximum of 12 months.
You can benefit of an exchange abroad with Erasmus+ multiple times, either as a student or as a trainee, but your total time abroad (study abroad periods included) may not exceed 12 months within one cycle of study.
You can also go for a traineeship abroad as a recent graduate. In this case, your traineeship must occur within one year of your graduation and you must apply while still being enrolled in your higher education institution.
Conditions
Request to the applicant
You are enrolled at Viadrina as an undergraduate student. Internships for graduates can also be supported.
You have not yet used up your Erasmus budget of 12 months in the current study cycle.
You have an internship that serves the following requirements.
You have proven good language skills in the planned working language.
You do not complete the internship in the country of your main residence. International students who would like to complete an internship in their home country can only be supported if they can prove that they lived in Germany during their studies.
In addition, we also take into account the selection of the beneficiaries:
Your academic achievements
Your motivation for the internship and its importance for your career
Requirements for the internship
The internship will be completed in one of the following Erasmus countries:
the 28 EU member states (except Germany) and their overseas territories, Iceland, Liechtenstein, Norway, Turkey, former Yugoslav Republic of Macedonia (Switzerland does not participate in Erasmus+, funding is available through the Swiss-European Mobility Programme)
The internship lasts a minimum of 60 days (whereby the 31st of a month does not count) and a maximum of 360 days (Viadrina supports a maximum of 5 months/150 days of an Erasmus+ internship).
The internship has at least 35 hours working-time per week (full-time).
The internship can be integrated into your studies and is listed in the Diploma Supplement. Ideally, it is provided for in the study regulations (mandatory or optional).
Recognition
Before the traineeship abroad:
You, your higher education institution and the receiving organisation must sign a Learning Agreement for Traineeships to ensure a transparent and efficient preparation of the exchange abroad. This document sets out rights and responsibilities of the various parties, a detailed programme of the traineeship, information on insurance, and how your traineeship will be recognised upon successful completion.
You will receive the Erasmus+ Student Charter, explaining your rights and obligations with respect to your traineeship abroad.
After the traineeship abroad:
The receiving organisation/enterprise should send you and your higher education institution a Traineeship Certificate, normally within five weeks after successful completion of the traineeship.
Your higher education institution must recognise your traineeship abroad, according to the commitments agreed upon in the learning agreement and without any further requirements.
If your higher education institution is in a Programme country, the information contained in the Traineeship Certificate should also be included in the Diploma Supplement, except if you are a recent graduate. In this case, it is recommended to record the traineeship in the trainee's Europass Mobility Document.
Financial Support
You may receive an Erasmus+ grant as a contribution to your travel and subsistence costs and extra funding is available for traineeships. It may vary according to differences in living costs between your country and the destination country, the number of students applying for a grant, the distance between countries and the availability of other grants.
Rates 2019:

Group 1 (520,00 EUR per 30 days): Denmark, Finland, France, Ireland, Italy, Liechtenstein, Norway, Austria, Sweden.
Group 2 (460,00 EUR per 30 days): Belgium, Greece, Iceland, Croatia, Luxembourg, Netherlands, Portugal, Slovenia, Spain, Czech Republic, Turkey, Cyprus, Slovenia
Group 3 (EUR 400. 00 per 30 days): Bulgaria, Estonia, Latvia, Lithuania, Malta, Former Yugoslav Republic of Macedonia, Poland, Romania, Slovakia, Hungary.
The European University Viadrina supports a maximum of 150 days of an internship. Longer Erasmus+ placements are divided into a financially supported phase and a non financially supported phase (zero grant).
How to apply
You can apply for Erasmus+ support for your internship at any time, but at the latest 4 weeks before the start of the internship, at the Career Center (AM 138). Short-term applications cannot always be considered.
The following documents must be submitted:
the completed and signed application form
Letter of motivation (1 to max. 2 DIN A4 pages in German or English)
Curriculum vitae with photo (in German or English)
Confirmation of the internship supplier, e. g. contract, e-mail, etc. (can be submitted later for graduate internships)
grade overview: printout from the HIS-Portal. For Master's students, a copy of the previous degree
Proof of knowledge of the working language (excerpt from your study book for language courses from the website of the Language Centre; further certificates if necessary. If you do not have any proof of your language skills, please use the DAAD Language Certificate Form (English/French/Spanish/Spanish/Spanish/; - further languages can be found on the Internet) to be graded at the appropriate lectorate in the Language Centre. )
international students who complete their internship in their home country: Proof that you have your main residence in Germany during your studies.

What happens after the application?
If your application meets the eligibility criteria, we will consider your letter of motivation and your academic achievements in a second step. The grant will be sent to you by e-mail together with the Erasmus+ documents and further information.
Further information Erasmus+
The EU Commission Erasmus+ website and FAQs regarding student mobility in Erasmus+
Homepage of the National Agency for Erasmus+ in Germany: www.eu.daad.de