Erasmus+ Funding for internships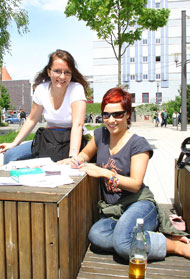 An internship abroad with Erasmus+
The Erasmus+ internship (SMP) enables students and graduates to gain experience of working abroad in a European country. They not only acquire relevant practical experience but can also improve their language skills and extend their intercultural and social skills.
The program offers students at the European University Viadrina:
secure work covered by an EU contract of employment between the university, the company and the student
support in finding and planning an internship abroad
financial support for the additional costs of being abroad
a certificate (diploma supplement) showing that you carried out an internship or academic recognition of the internship
foreign language lessons in the relevant language
extra support for disabled students
extra support for students with children
What is Erasmus+?
Erasmus+ has a budget of around EUR 14.8 bn, and more than four million people will take advantage of the EU fund by 2020. The seven-year program aims to improve skills and employability, modernize general education and vocational training and promote help for children and young people.
The funds will mainly be used to promote mobility in Europe and, to a lesser extent, other parts of the world. The program aims to support students who want to study abroad for some time or carry out an internship in a foreign country.
The EU Commission Erasmus+ website and FAQs regarding student mobility in Erasmus+
Homepage of the National Agency for Erasmus+ in Germany: www.eu.daad.de