Center for Teaching and Learning
Here is a step-by-step guideline to show you how to create a video and present it in Moodle. To do so, you require various applications:

Opencast: This is for creating your video presentation and saving it on your computer

---


HandBrake: This is for configuring your video data into the right format

---


WeTransfer: This is for transferring your video data to the IKMZ

---

Powerpoint: You can also create videos with an up-to-date PowerPoint version, which you can provide via the IKMZ

---
To be able to create a video, you will need at least one computer with a microphone, ideally also with a camera.
Creating videos with Opencast
OpencastStudio is accessed via your web browser. To do so, enter the address: https://opencast.europa-uni.de.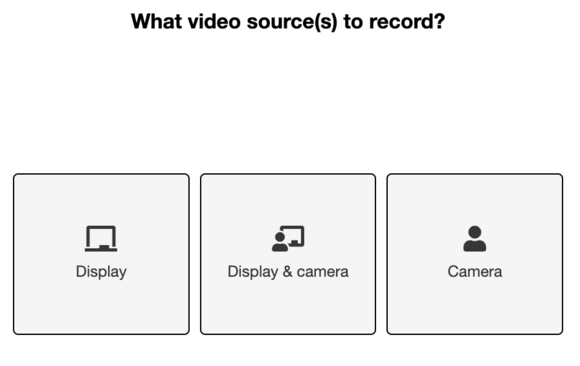 Opencast Welcome-Screen
You can now decide whether only your screen is visible in the recording or only the recording of your camera, or both. The "Camera" selection box allows you to also create a mere audio recording. When selecting "Screen and camera", two video files are created at the end. Your students can watch them both at the same time (synchronised)..

Make your choice and click on "Next".
Depending on your choice, you are now asked whether Opencast can access your microphone and your camera. If you are working with more than one screen, you will also be asked which screen you want to use for the presentation.
If you only wish to move around in one application (e.g. in one browser window only), then you can select this application. Only applications that have been started can be selected.
Confirm your screen selection with 'Share'. You will now see two video windows: Your shared screen or application on the left, and the image of your camera or yourself on the right.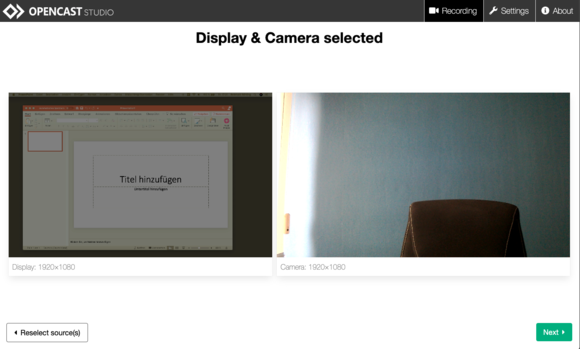 Via 'Reselect source(s)'. you can recompose your screen/camera combination.
If you agree with the presentation, click on 'Next'.
On the next screen, click on the microphone to create your video with sound and select 'Next'. If you are asked whether OpenCast may access your microphone, please confirm this.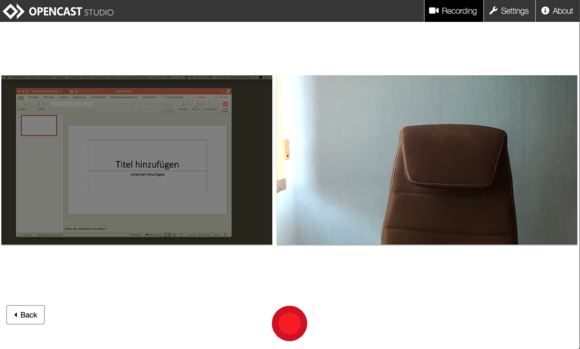 Now everything is ready for your recording. You can now see your selected screen or screen section (camera, programme window, browser tab) and a red button with which you can start and stop the recording.
After stopping the recording, you can watch your video. The screen video and the camera recording are played synchronously in the same way your students will see it later. If you are satisfied, click on 'Continue', otherwise select "Discard and rerecord".
The option to download the file(s) will now appear. If you have created a video with a screen and camera, then you will have to download both parts as separate files! State the desired memory location and file name and save your video(s) on your computer.
All you need to do now is configure your videos, so that they can be uploaded onto the media serve of the Viadrina and then linked in Moodle!
Creating videos with PowerPoint
You can record commented screencasts with PowerPoint.

How to start the recording: Click on the screen presentation tab, select the slide the presentation is to begin with and then click on record screen presentation

Make sure your microphone is switched on. You can now hold and comment your presentation. Afterwards, save your video via 'File/Export' and select 'MP4' as the format. Select 'Internet quality' for the quality.
You may possibly know other solutions for creating screencasts or even videos with a camera. The following steps for the further configuration of your video are necessary for the provision within a Moodle course.
Configuring videos with Handbrake
First of all, please install the Handbrake programme that you can download here. Starten Sie 'Handbrake' und wählen Sie Ihr Video über den Menüpunkt 'Quelle öffnen' aus.
| | | |
| --- | --- | --- |
| | | |
| Select General / VeryFast (720p30) | | Select MP4 as the format and activate "web-optimised" and""A/V synchronous" |

Now give your video a name and select the memory location on your computer.
Note for naming video files
Make sure you do not use spaces, special characters, umlauts, and periods!
Name the video files according to the following scheme: Faculty_YYYYMMDD_Namelecturer_TitleofLecture.mp4
Please use the following abbreviations:
Jura – Juristische-Fakultät
Wiwi – Wirtschaftswissenschaftliche-Fakultät
Kuwi – Kulturwissenschaftliche-Fakultät SZ - Sprachenzentrum
Example: WiWi_20200420_Koch_Strategisches_Management_1.mp4 (oder m4v)
Bei mehreren Videos (z.B. Präsentations- und Kameravideo) wiederholen Sie den gesamten Konfigurations-Vorgang entsprechend für jede Videodatei. With more than one video (e.g. presentation and camera video), repeat the entire configuration process accordingly for every video file.
Now, your video has to be transferred to the IKMZ.
Transferring videos to the IKMZ
Open the Internet page of WeTransfer and accept the free Terms of Use. You do not need to register. Just select "No, thanks".
Add your video file by clicking "+" and select the memory location.

At "Email to", enter the address multimedia-support@europa-uni.de and add your own Viadrina email address under "Your email". Click on "Transfer"

The file will be uploaded in the multimedia department of the IKMZ onto the Viadrina media server. The "The sender" contains a link to the video file. You can post this link on Moodle or a website.
Embedding a video in Moodle
Um Ihr Video in einen Moodle-Kurs einzubinden, legen Sie zunächst einen Videoplayer an.
| | |
| --- | --- |
| To embed your video in a Moodle course, first of all, set up a video player, To do so, go into your course, put it in edit mode and add the activity 'Paella Video player'. | |
In the following input mask, enter the links to your videos that you have received from IKMZ.
Analogous to the recording created, a differentiation is made between a presentation image and a camera image.


Confirm with "Save and return to course" or with "Save and display".