Bridging Scholarships and Degree Completion Scholarships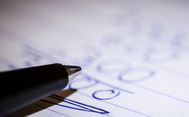 European University Viadrina, as a family-friendly institution, aims to provide support to academic staff and (young) scientists with children and/or with responsibilities of caregiving. To this purpose, the University grants bridging scholarships for PhD candidates and postdoctoral researchers. These serve to bridge situations in which the reentry into, or the continuation or completion of the studies is endangered or made more difficult because of child rearing and caregiving.
In addition, the University is committed to supporting women (researchers and scientists) in acquisition of academic qualifications – it is a commitment outlined in University's Equal Opportunities Concept. Degree Completion Scholarship is a financial assistance provided by University to particularly highly qualified female PhD candidates and early stage researchers.
Generally, these scholarships can be applied for until the end of the year for the upcoming year. Any surplus will be transferred to a following year to fund additional scholarships. For further information, please refer to the call for applications.
Application form bridging scholarships (Download)
Application form degree completion scholarships (Download)
Please contact Family representative for further information.