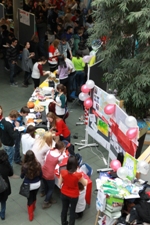 Contact person for recognition questions for the Faculty of Law
For recognition questions relating to the Faculty of Law please contact the Department of International Affairs of the European University Viadrina (Nicole Klück or until June 2016 Sina Raddatz)
For the recognition of foreign academic achievements please submit the following documents to the Department of International Affairs:
A

completely filled out

application form for students of the Faculty of Law (application for recognition of foreign academic achievements). Please send this, by email, to outgoing@europa-uni.de.
The original Transcript of Records (list of all taken foreign courses).
Evidence of the student level (year of study) in which the study was undertaken, the number of semester periods per week as well as the ECTS credits (if this is not apparent in the Transcript of Records).
Information on the university / study program (if it is not a partner university).