Viadrina as a host university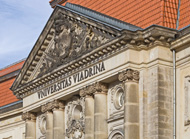 Viadrina is a university in the heart of Europe with a unique international and interdisciplinary character. Our students and lecturers come from 80 different countries. The international aspects of law, economics and social and cultural sciences play a particularly important role in the undergraduate and graduate programmes of the three Faculties. Alongside subjects taught in German, you will also find a broad offer of lectures in English, French and Polish.
The geographic position of our University right on the border of Germany and Poland means that our students cross borders on a daily basis in their academic and private lives, creating an international atmosphere. At the same time, the German capital Berlin is only one hour by train. The semester ticket you receive as a student of Viadrina gives you free use of public transport in the entire region including Berlin, which allows you to enjoy big city life whenever you like.
For its ca. 6500 students, Viadrina offers an ideal study environment comprising small groups, direct contact with the lecturers, and numerous services. Looking after our international students, academics and guests is particularly important to us. We warmly invite all PUEDES scholarship holders to the programmes and events we offer for our international guests. You can find more information on living and studying at Viadrina under the following links:
Useful links: