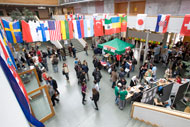 During the two weeks, non-Ukrainian participants will have the opportunity to improve their Ukrainian skills in language classes on various levels while Ukrainian participants will have a German language class.
Seminar topics will revolve around the perception of Europe in Ukraine and Ukraine's position towards certain pan-European challenges of today. Therefore, we are pleased to welcome the following scholars:
Alessandro Achilli (Milano), Marco Puleri (Bologna):
Mirroring Europe in Ukrainian Literature (or Textualising a New Topology of National Identity)
Vasyl Cherepanyn (Kyïv):
The School of Abducted Europe. Culture and Society in Post-Maidan Ukraine
Mykhailo Minakov (Kyïv):
Revolutionary Cycles of Contemporary Ukraine and Experience of Post-Communist Europe
Andrii Portnov (Berlin):
The Mythology of Europe Outside the EU
Closely linked to the seminars is a workshop on conflict management by Prof. Kirchhoff from the Europa-Universität Viadrina's IKM (Institut für Konfliktmanagement). Furthermore, there will be literature evenings, public discussions, and an Open Space where participants will have the chance to discuss their own scientific or cultural projects with other participants and scholars. Two workshops on 'Thinking Transnationally', which are conducted by experienced multipliers, will give participants the opportunity to learn more about multilateral project management. Moreover, in this context, there will also be an excursion to Poznań, where participants will meet with civil society actors who will give insights in transnational project management and discuss best practices.
You can find the latest version of the programme here.