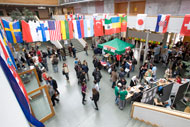 The school seminars will be devoted to theoretical and empirical analysis of the role of borders and identity construction in conflict areas of the Eastern Partnership region. Among others, the programme includes the following seminars and workshops:
Karl Schlögel (Berlin, Frankfurt/Oder): The Meaning of Borders in Post-Soviet Space


Vasyl Cherepanyn (Kyïv): Trespassing Europe: Wars and Walls in the Borderlands


Ketevan Khutsishvili (Tbilisi): Construction of Identities in Conflict Zones. Case Study of Abkhazia


Lars Kirchhoff (Frankfurt/Oder), Tatiana Kyselova (Kyïv), Julia von Dobeneck (Frankfurt/Oder): Workshop on Conflict Management and Peace Mediation


Jutta Sommerbauer (Vienna), Elena Jerzdeva (Berlin): Workshop on Civic Journalism in Areas of Conflict
Besides the academic part, participants of the school will also be able to develop their own small projects in the framework of three workshops (Border.Doc, Border.Art, Border.Media) under the close guidance of professional experts from the field of documentary filmmaking, art and journalism.
During the two weeks, non-Ukrainian participants will have the opportunity to improve their Ukrainian language skills in classes of various levels while Ukrainian participants can attend a German language class.
You can find the latest version of the programme here.