Beauftragte/-r für Ausländerfragen
Increasing your personal security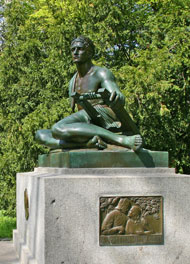 Most of the citizens of Frankfurt-Oder would call their town "friendly Frankfurt".
In town around the university's main building there are liaison officers for the federal police (Bundespolizei) (Tel.: 68 388 110) as well as for the city police (Tel.: 5 543 346). The police station is located at Nuhnenstraße 40, 15234 Frankfurt-Oder (Tel. 49 335 561123-0).- The telephone number of the operations center of the federal police is 56 598 115. In Slubice, Poland, the telephone number of the police is 997 and of the rescue/fire service 999/998.
Report incidents! Report as accurately as possible any unpleasant or suspicious experience to the president's office (Tel. 5534 4421; e-mail: president@europa-uni.de) or to the Commissioner for the Affairs of Foreigners of the university (Tel. 5534 2500/2815; e-mail: thiele@europa-uni.de). The university will take care of the matter.