Students with Disabilities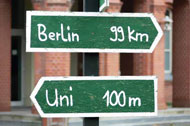 The Viadrina supports all students who have chronic illnesses or physical disabilities. Students on the social networking site StudiVZ voted us one of the most "disability friendly" German universities because of this effort. These services are also fully available to international exchange students at the Viadrina.
Disadvantage Compensation
The Viadrina's examination rules include exceptions for chronically ill or physically disadvantaged students. Through arrangements with your instructor, personal requirements may be established regarding the completion of examinations.
Visual impairment
The Viadrina offers a modern computer workspace for visually impaired students. These computers feature a viewfinder option which allows you to enlarge a printed document. All computers are connected to the internet.
Hearing impairment
The Viadrina rents infrared receivers to hearing impaired students.
Wheelchair Users and Students with Leg Disabilities
All Viadrina classrooms and buildings are accessible and unobstructed. One-room apartments are always available for wheelchair users through the Frankfurt (Oder)
Studentenwerk
.
Note that you will likely require more time and planning for your university studies. Please get in contact with members of the Department of International Affairs as soon as possible.
Exchange students (ERASMUS students, for example), please get in touch with your home university first. After you have been accepted to the program, please do not hesitate to contact us.
If you have additional questions, you can either contact study counellor Ms. Kerstin Richter, the university's assistant for students with disabilities, or members of the Department of International Affairs.