Studying Abroad with a Child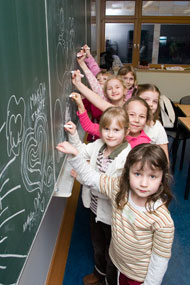 As a parent you still have the opportunity to study for one or two semesters abroad. The Department of International Affairs will support and advise you regarding where to study that has a strong infrastructure for parents. Not all of our partner schools are as attuned to the needs of parents as others. One can say, generally, that it is easier to reconcile one's studies and parenthood at norther European universities. Our partner institutions in Sweden, Holland and in the Czech Republic are good examples. However, it is usually possible to complete time abroad in other countries.
It is easier to get financial support if you study in Europe. You will receive a scholarship when you study in our European Union programs. The amount can be adjusted for more family members, but you must apply for this feature at least three months before your departure.
For more information, you may contact the members of the Department of International Affairs or ask for advice from our family representatives.
Be aware that preparation for your time abroad will likely require more time and planning than it does for your colleagues without children. A timeframe of one and a half years would be ideal for planning your time abroad, because the only time to select your program is once a year during the winter semester.
Welcoming Present for Children of Students
To improve our support system for students with children and make your time with us more successful, we provide 100 € to every newborn child of a Viadrina student. Half of this sum is provided by the Frankfurt (Oder) Studentenwerk and the other is paid by the General Students' Committee (AStA) of the European University Viadrina.
Further important information about studying abroad is available here: www.auslandsstudium-mit-kind.de (German only)
ERASMUS with a Child
If you complete a semester abroad within the ERASMUS-Program with a child, you are able to request an additional support. If interested, please ask Nicole Klueck for further information.
For the academic year 2012/2013 the DAAD has determined the following rates:
Independent from the chosen country, the recipients can obtain
150 Euro with one child
200 Euro with two children
260 Euro with three children
each one additional to the maximum amount of 300 Euro (SMS).
The estimated sum is reduced, if the total amount exceeds the maximum (SMS) rate for the respective country. (Example: A (SMS) recipient is going to Bulgaria with three children. She receives the 300 Euro maximum national amount + 260 Euro children support. However, instead of getting the total sum of 560 Euro, only the maximum country rate of 448 Euro can be paid.)