Viadrina Center for Graduate Studies
Why Pursue a Doctorate at Viadrina?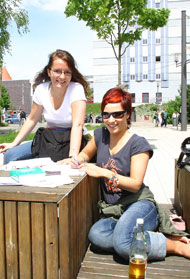 There are many good reasons to pursue a doctorate at Viadrina - the most important being internationalism, interdisciplinarism and excellent working conditions.
Viadrina is a truly international university
Seated at the river Oder, right at the border between Germany and Poland, internationalism has deeply shaped the way of thinking that drives research and instruction at Viadrina. With about 25% of its student body made up of foreign students coming from more than 70 countries, Viadrina is clearly among Germany´s most international universities. The teaching staff is increasingly international and the university fosters cooperative agreements with almost 200 foreign universities. Cooperation with Poland and research on Eastern-Western-European relations is one of Viadrina´s core objectives. At Viadrina, you´ve got the opportunity to enjoy international and intercultural exchange on campus – and that will broaden your view on your scientific work.
Viadrina is a truly interdisciplinary university
Viadrina´s three faculties – i.e. the faculty of social and cultural sciences, the faculty of business administration and economics and the faculty of law – have a strong interdisciplinary orientation in their teaching and research activities. They cooperate in order to gain insights into neighbouring disciplines, thus achieving a much better understanding of societal problems. Professors of different fields work together in order to offer truly interdisciplinary study programmes. At Viadrina, your research will be interdisciplinary – and that will help you to learn to think outside the box.
Viadrina offers excellent working conditions
Viadrina is a university of close proximity and easy access. Due to its size and familiar atmosphere, all matters can be solved quickly and flexibly. Viadrina offers excellent research possibilities: a modern equipped library, wireless internet access on campus and an outstandingly low student-professor-ratio which enables you to get the advice you need in due time. At Viadrina, you work in a well-arranged and well-structured environment – and this will enable you to proceed quickly with your research.